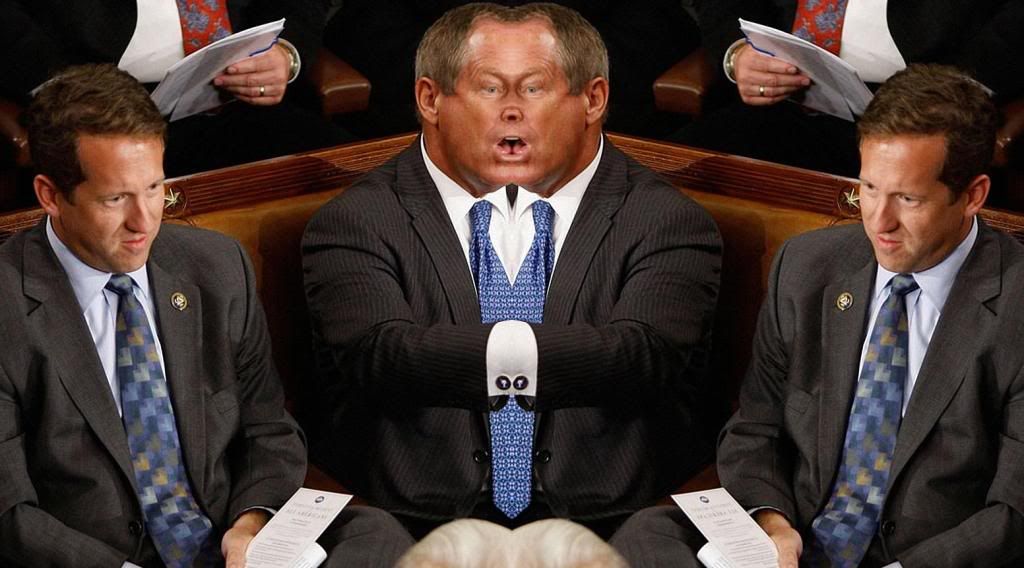 Republican Congressman Joe Wilson from South Carolina heckled the president of the United States from the floor of the House during a joint session of Congress this evening, screaming "You lie!" while the President addressed Republican spin regarding medical benefits to immigrants.

This is not the first time that representatives from South Carolina have disgraced Congress.


In May, 1856, Senator Charles Sumner of Masschusetts gave a speech describing slavery as a harlot, comparing South Carolina Senator Andrew Butler with Don Quixote for embracing it, and mocking Butler for a physical handicap. Three days later, Congressman Brooks advanced on Sumner while he worked at his desk in the Senate chamber and beat him into unconsciousness. Brooks continued to strike Sumner's prone and unconscious form until he snapped his cane in two. Fellow South Carolinian Congressman Laurence Keitt brandished a pistol to repel anyone attempting to stop the attack.



The next part of the story reflects the true honor and chivalry of the gentleman from South Carolina. Massachusetts congressman Anson Burlingame was a vocal critic of the attack. When Burlingame denounced Brooks as a coward on the floor of the House, Brooks challenged him to a duel, and Burlingame accepted the challenge. Burlingame, as the challenged party, specified rifles as the weapons, and to get around anti-dueling laws he named the Canadian side of Niagara Falls as the site. Brooks backed out of the challenge, claiming that he would be murdered on his way north. Burlingame's reputation as an avid deer hunter and a deadly shot with a rifle could also have been a factor.